For diving license holders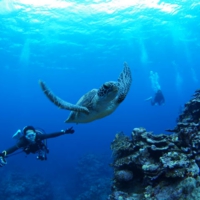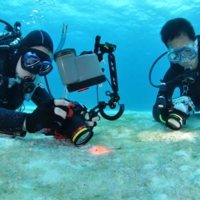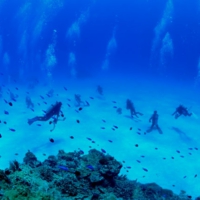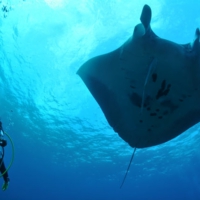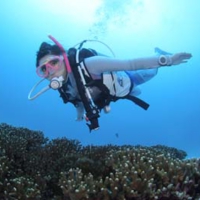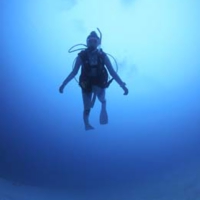 8:00〜8:20 The staff will pick up you where you are staying on Ishigaki Island (the pick up time may differ depending on the place).

8:30 Meet at the harbor, prepare your gear and depart.

The travel time depends on the sea state and guests' requests. You will take two dives in the morning.

12:30〜13:30 Lunch is served on the boat in a calm sea area or on a remote island.

After a lunch break, the third dive will start. If you take only two dives, you will take a rest on the boat at any timing.

15:30〜16:00 Arrive at the harbor.

16:00〜16:30 Return to the shop, wash your gear and log your data.

16:30〜17:00 Drive back to where you are staying


| | | |
| --- | --- | --- |
| Scuba Diving | 2dives | 15,660yen(tax included) |
| | 3dives | 19,980yen(tax included) |
| Enriched Air | per tank | +1,200yen(tax included) |
The diving fee includes the boat ride, guide, tank, weights and lunch.
If you would like to use an enriched tank, please contact us in advance (when you book your dive).


Full Rental

6,480yen(tax included)

Regulator

1,620yen(tax included)

BC

1,620yen(tax included)


Wet Suits

1,620yen(tax included)

Basic Set
(Mask, Snorkel, Fins, Boots, Gloves)
1,620yen(tax included)


Dive Computer

1,080yen(tax included)

Hood Best

1,080yen(tax included)


Light

1,080yen(tax included)


Digital Camera

3,240yen(tax included)

Digital Single-lens Reflex Camera

10,800yen(tax included)

Bubble-ring Gun

2,000yen(tax included)

Full rental equipment includes a dive computer. We strongly request you to use the dive computer.
If you rent an underwater camera, we will give you a CD-R.


Credit cards are accepted.



・A diving license and be medically fit
・If you are younger than 20 years old, permission from your parent or guardian.


・Diving Gear(if you have own)
・Swimwear, towels, and clothes (please put your swimwear on under your clothes before we meet in the morning). A changing room is available on the boat.
・Other things to consider bringing are medicine for seasickness, sunscreen, and a boat coat or something to wear when you are on the surface during the break time.

If you have any health concerns (e.g. surgical history, frequent hospital visits, and medications that you are currently taking), please check this topic. →Health Condition

We require 8 days cancellation notice prior to your scheduled arrival. 100% of your total amount will be charged if you do not notify us about your cancellation at least 7 days before your scheduled appointment or you do not show, with the following exceptions:;
・Sea state. We will decide whether to cancel because of the sea condition.
・Because of weather conditions, airplanes or ships are not operating on schedule.

Contact us