If you have never dived before and want to try scuba diving or do not have any diving certification, UmiMotto offers you two trial diving courses.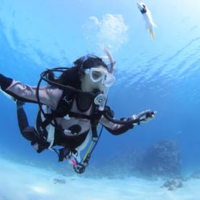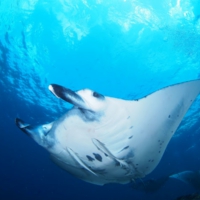 The Mermaid Course includes two dives. You will learn 5 basic skills during the first dive. After you learn these skills, you can go deeper than 12 meters where you cannot go with other normal trial diving courses and you will enjoy the underwater world during the second dive in this course. We have been receiving good reviews about how fun and reliable this course is. Depends on the condition of the sea you could see manta rays.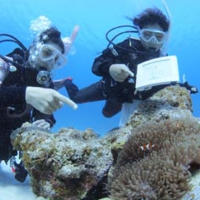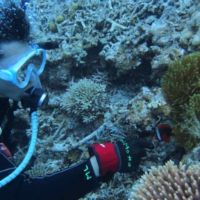 The Little Mermaid Course starts with snorkeling to see the underwater world and then trying one dive. Unfortunately, with this course, you cannot go to the diving point to meet the manta rays, but you can see many beautiful fish that are only on Ishigaki Island. Maybe you can see Nemo!


You must be 10 years or older and medically fit. (If you are younger than 20 years old, your parent or guardian's signature is required).

All divers should check the PADI Medical Statement (participant record). If you have answered "yes" to any questions in the medical questionnaire section, you must provide a report from a doctor indicating that you are fit to dive, including any recommended restrictions or limitations. If you do not have a doctor's report, you will not be permitted to take dive or take the courses. If you have any questions, please contact in advance by email.
→Health Condition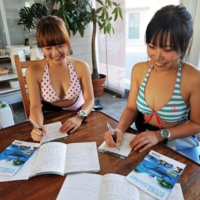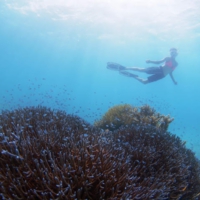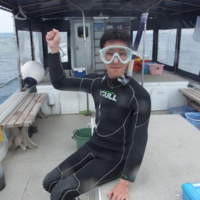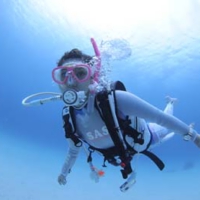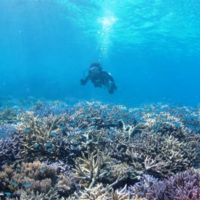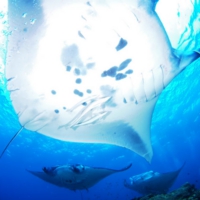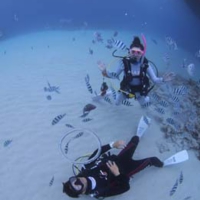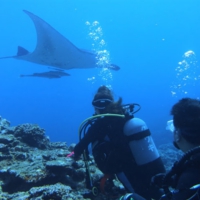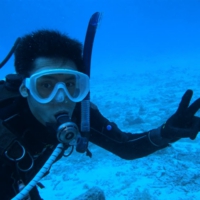 8:00〜8:20 The staff will pick up you where you are staying on Ishigaki Island (the pick up time may differ depending on the place). If you come by your own transportation such as a rental car, we will meet you at the harbor.

8:30 Meet at the harbor, complete the application, prepare your equipment and depart.

The travel time depends on the sea state or guests' requests. You will take two dives (or snorkeling plus one dive) in the morning.

12:30〜13:30 Lunch will be served on the boat at a calm sea point or on a remote island.

After lunch break, you can enjoy another dive or snorkeling as an option (additional fee is required).

15:30〜16:00 Arrive at the harbor.

16:00〜16:30 Pay at the diving shop.

17:00〜18:00 Drive back to where you are staying. If you come by your own transportation, we will end at the dive shop.

| | | |
| --- | --- | --- |
| Mermaid course | 2dive | 23,000yen(tax included) |
| Little Mermaid course | 1snorkle&1dive | 15,000yen(tax included) |
| Optional dive | 1dive | 5,400yen(tax included) |
| Optional snorkle | 1snorkle | 3,240yen(tax included) |
The diving fee includes the boat ride, guide, tank, weights, rental gear and lunch.


・Swimwear, towels, and clothes (please put your swimwear on under your clothes before we meet in the morning). A changing room is available on the boat.
・Other things to consider bringing are medicine for seasickness, sunscreen, and a boat coat or something to wear when you are on the surface during the break time.
・Please bring your own mask, snorkel or fins (if you have them)

If you have any health concerns (e.g. surgical history, frequent hospital visits, and medications that you are currently taking), please check this topic. →Health Condition

We require 8 days cancellation notice prior to your scheduled arrival. 100% of your total amount will be charged if you do not notify us about your cancellation at least 7 days before your scheduled appointment or you do not show, with the following exceptions:;
・Sea state. We will decide whether to cancel because of the sea condition.
・Because of weather conditions, airplanes or ships are not operating on schedule.

Contact us